Welcome to the Panorama X 10.2 online courses! I've got a lot of information for you, so let's dive in.
Downloading and Installing Panorama X 10.2
I'm sure your first question is how to download the 10.2 software. Here's the link:
http://www.provue.com/downloads/sparkle/PanoramaX/3575/PanoramaX.zip
The system requirements are 10.9 and up (10.12 and up for the server). Both the standalone version and the server have been tested on macOS 11 (Big Sur). (Gosh it feels weird to write macOS 11 instead of macOS 10 – I almost wrote 10.16

)
After downloading, move the PanoramaX.app file into your Applications folder. If you want to keep the 10.1 version, you can rename one of them. It's perfectly fine to have both versions on the computer, you can even run both of them at the same time. However, there's probably no real need to keep 10.1 around, and if you have two copies of PanoramaX.app on your system you might not get the one you want when you double click on a database. So decide what's best for you. (Of course even if you delete Panorama X 10.1, you can always re-download it again in the unlikely event you ever needed it.)
If you are using macOS 10.15 Catalina or 11 Big Sur, a special step is needed the first time you run the preview version. Because this preliminary version of Panorama X is not notarized, these versions of macOS will refuse to run it if you double click on it. Instead, you must right click on it and choose Open from the pop-up menu. This is only necessary the first time you run it after downloading. After the first time, you can open it normally by double clicking on it or by double clicking on any Panorama database file.
There is no difference in the file format between Panorama X 10.1 and 10.2. You can freely interchange databases between the versions, or even 10.0. Of course if you add 10.2 features to your code they won't work if you run the older version.
For those of you that signed up for the Deploying Shared Databases course, I'll be discussing how to install the server in an online session. Note that if you didn't sign up for this course, Panorama won't allow you to install or launch the server.
If you haven't done so already, you may want to check out the Release Notes for Panorama X 10.2.
Of course most this material will be be covered in the upcoming course. Speaking of which…
Getting Started with Zoom
The online sessions will be conducted via Zoom. If you don't already have the Zoom app installed on your system, I recommend that you do so now, ahead of time. You're looking for Zoom Client for Meetings, which is at the top of this page:
If you have a Zoom account that's fine, but you do not need a Zoom account to join the class sessions. All you need is the link, which will be provided (see below).
The best way to participate is to use a desktop computer with the Zoom application. You can also participate on an iPad, but you may find the screen a bit small. We do not support using a web browser for class participation – you must use the Zoom app.
Learning to use Zoom
I'm sure many of you are very familiar with Zoom by now. If you are, you can skip ahead to the next section.
If you're new to Zoom, don't worry, it's pretty easy. You may want to take a few minutes to read this short free book about the essentials of Zoom.
There are also many, many, many YouTube videos for learning about Zoom. In preparing to write this introduction I watched at least part of quite a few of them looking for a good video to recommend. I didn't find one I thought was perfect, but this series seems pretty good – short and too the point but still covering the essentials (unfortunately they were using Windows, but most of it is the same or similar).
https://www.youtube.com/playlist?list=PLxMFLNwWedPDhh-NCVihh70d2YA8YJJVG

Video, Audio and Chat
Most of the course will involve looking at my screen and listening to me talk. During presentations, I would request that everyone keep their audio muted in consideration of the other attendees (unless called upon).
I know that some people don't like to turn on their cameras during Zoom sessions. That's perfectly fine, there's no requirement for video. On the other hand, as a presenter I enjoy seeing some faces, so I encourage you to enable your cameras if you're up for it.
Audio discussion isn't really practical with a large group, but Zoom has a text chat feature that allows discussion among the group during the presentation. This will also be the primary way to ask questions, I will periodically review the chat to see if there are questions that need answering.
Orientation (Tuesday, January 19, 1 PM California Time)
Since we have a large group (75 from 9 countries!), I'm sure there are going to be some kinks to work out in getting everyone onboard with Zoom. So for the first session on Tuesday there won't be any in-depth content, the focus will be on making sure that everyone can connect, that the sound and video works, that everyon knows how Zoom chat works, etc. I want to make sure these types of issues are out of the way so actual course material doesn't get interrupted by technical issues (to the extent possible). I will also present an overview of what I plan to teach during the course, and will cover how sessions will be run as far as questions, feedback, how to watch recorded session videos etc. Whatever your familiarity with Zoom, please be sure to attend the session on Tuesday so we can make sure everything is working. After Tuesday I'll be too busy presenting to be able to assist in any connectivity or other technical issues related to getting Zoom working.
Course Calendar
SInce you are now signed up for the course, you can view the upcoming course class schedule and join courses by selecting the Panorama X Live Course Calendar command from the Help menu. This window will show you the class schedule in your local time zone, and the elapsed time to the next live session. (You can scroll or grow the window to show more upcoming courses.)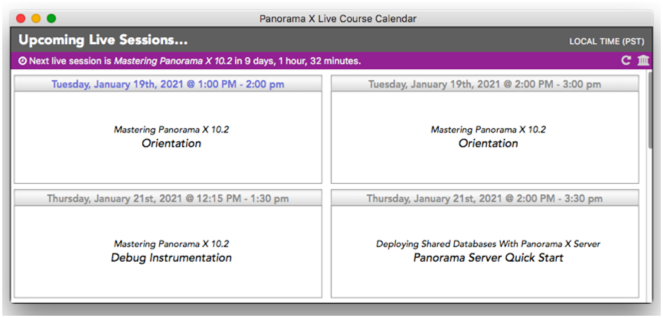 Note that you will only see course sessions that you are actually signed up for. If you're not signed up for the Shared Databases course, those sessions will not appear in the window.
Shortly before a course is about to begin, the link to the course will be displayed in the calendar window.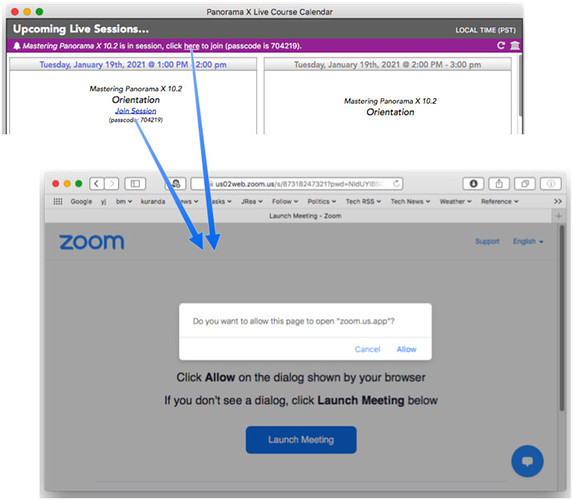 Clicking the link opens a page in your web browser, which then has a second link that allows you to open the Zoom conference app to actually join the Zoom class session. When you first join the Zoom session, you will start out in a waiting room. If you arrive early, you'll be in the waiting room until the meeting actually starts, then one of the meeting co-hosts will let you in. If you arrive after the meeting starts, you'll be in the waiting room until one of the co-hosts admits you. In addition to myself, there will be several volunteer co-hosts for each meeting that will help with this duty.
Where's the Zoom Link?
The Live Course Calendar should update automatically, including showing you the Zoom link before each session. But if a session is about to start and you don't see the link, we've built in a manual fail-safe – simply click the Refresh button.

If that doesn't work, try holding down the Option key when you click on the Refresh button, which invokes a super-fail-safe refresh.
In the unlikely event that the link still doesn't appear, or if you can't connect for some other reason, there will be a topic set up on this forum where you can request assistance, especially for the first meeting. (Note: Please do not post Zoom links on the forum.)
Important: You must install Panorama X 10.2 to receive the Zoom Link
I'm guessing you've already installed Panorama X 10.2 by the time you read this sentence, but if not, be sure to do so in advance of the first session on Tuesday. As you can see, you'll need to have Panorama X 10.2 running to get the link so you can join the meeting. Take a moment right now to check that you can open the Live Course Calendar and that you see the information for the first meeting on Tuesday (not the link, just the schedule). If you don't see the schedule, or you can't run Panorama X 10.2, please contact me as soon as possible so that I have time to fix the problem.
See You on Tuesday!
Hopefully I've answered most of your initial questions, but I'm sure I haven't thought of everything. I'll be answering more questions on Tuesday and throughout the class, and also here on the forum. I've still got a lot to do to get ready for the sessions, so technical answers about the software may be a bit limited for now, but definitely submit any questions you might have about getting connected to the sessions. Oh, and by the way, thank you for signing up and for your support of Panorama and ProVUE!
Stay safe,

Jim Rea
Founder, ProVUE Development