Some folks might remember my Wild Icons slot machine program I made several years back (it was also included with Panorama in the Examples/Games folder.) Well, I have created a new version for Panorama X that I call Wild Emojis. As the name implies it uses the Apple Color Emoji font as the slot machine reel images instead of the old resource icons used with the original Wild Icons. An earlier version of this file was posted back in March of 2016 on Slack and that version has developed some major problems introduced with subsequent Panorama X releases - most involving the sound scheme. The new version takes a slightly different approach but now works the same as the previous version was intended to work. Here is what Wild Emojis looks like: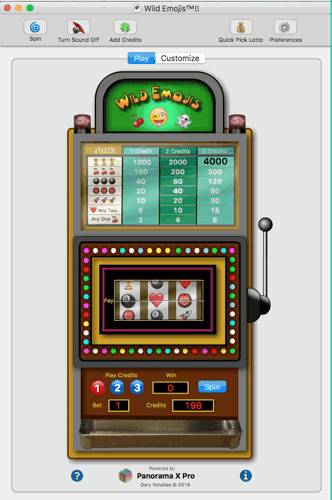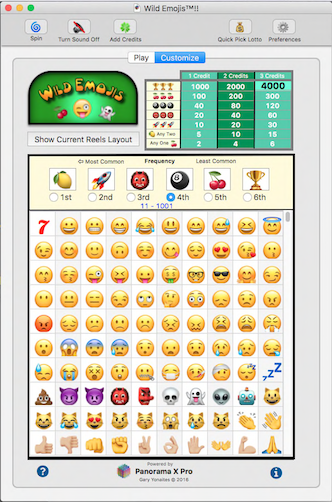 Wild Emojis includes sound and flashing lights to enhance the feel of a real slot machine. The reels use the exact reel arrangements found on a classic slot machine and offering similar odds. You can customize the reels with whatever group of emojis you wish by selecting from the list of some 1300 in the Customize panel shown above on the right. You can find the file here:
http://www.unseensoft.com/WildEmojis.zip
The zipped file contains the Wild Emojis database, a text file with instructions as well as a folder with the five sound files. Note that if you move Wild Emojis to a new location without including these sound files then the first time you open Wild Emojis a new sound folder will be created in the same location as the Wild Emojis file and be automatically populated with the five sound files that are used for the special effects.
This is still a work in progress so some additional features are waiting for things not yet implemented in Panorama X. Let me know of bugs and your comments or general suggestions. This will remain free to the Panorama community but may not to be used for any commercial purposes. Enjoy!
Gary

All rights reserved © 2017.