It seems that if I do much searching with View Search, a word or term that I've searched will persist. As I enter or paste new words, a previous search term continues to be displayed.
As shown below, I had searched for .selected Then I went on to do other searches and .selected continued to be displayed.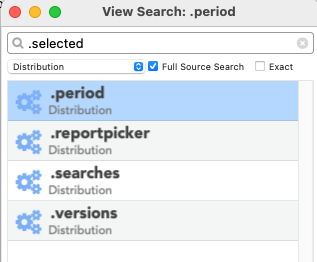 As the window title bar shows, the search is now for .period and the right results are displayed. But .selected continues to be shown.
Here, I've used the keyboard to delete the search data, but .selected remains.

Closing and reopening the window may or may not correct it. Same for opening additional View Search windows. It takes a full Quit to reliably clear it.