So i upgraded my old time MacBook air to Monterey to match my new MacBook Pro M1, and when i opened the file that is the master file for my everyday Panorama database for work, things didn't go as planned.
This set of files comprised a pretty complex app in Pan6, and I have been slowly converting it to work in PanX. (Ten years later OMG) Anyway the biggest challenge has been getting my custom functions to compile - for whatever reason this was happening in a procedure in the main database called .DeclareFunctions. After reading a bit here, I moved all of the declarations to a library and put them in Application Support. This was working great, until I upgraded to Monterey. Now, the .Initialize procedure fails and panorama shows me this: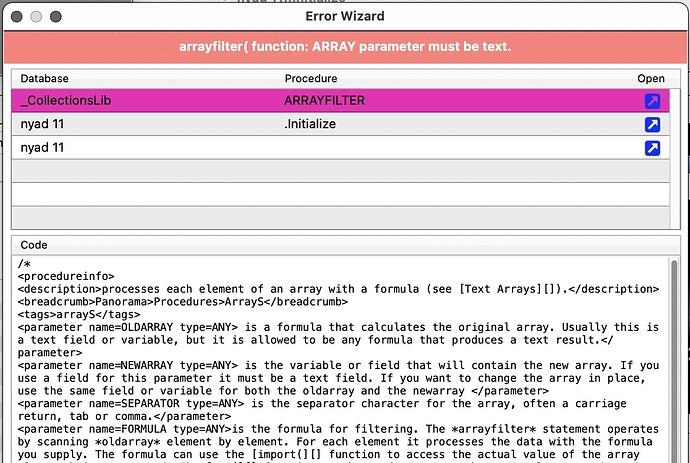 which is weird because I'd never even opened the Collections library. Then I noticed a bunch of nsnotify's complaining about my custom functions :


All these functions are defined in small groups in a bunch of ExecuteCatchErrors blocks with try/catch generating those notify banners. All procedures check ok.
This is a complicated app, and know that no one wants to slog through my half-converted Pan6 code. But I don't even know where to start looking. It seems like PanX is getting thrown by the parameter placeholders in my function definitions, but why would this show up so suddenly? It happens on my MBAir and my M1 MBPro, though the errors are different on each machine,. They are running the same file, as I keep it on Dropbox (no, i am not sharing it like this, its just there so I can work on whatever machine I have handy. Its only opened by one machine at a time. I've been doing this for 20 years so I dont think thats the problem…)
It looks like somethings going wrong with my function defs again, but if this situation seems familiar I'm all ears!