In the first half of 2021 I taught two Panorama X 10.2 courses on Zoom – Mastering Panorama X 10.2 and Deploying Shared Databases with Panorama X Server. The last session was about a year ago, and since then there have 9 additional beta releases from b17 to b25, with b26 on the way any day now. Some of these beta releases have significant new features that have been documented in the help system, but that have never covered in a course. I think many of these features have been a bit overlooked, so I'm planning to teach 2 or 3 additional courses at the end of May.
If you were signed up for the courses last year, you should be able to open the Help>Live Course Calendar and see the schedule now (if you didn't sign up for the server course, you will only see the last two sessions). There's no additional charge for these new sessions. I'm not sure yet if the May 31 session will be needed, but I think it is likely so I've provisionally added it to the schedule. If possible, I encourage everyone to participate interactively live, but as before, the plan is to record the sessions so that they can be watched at any time thru the Help menu.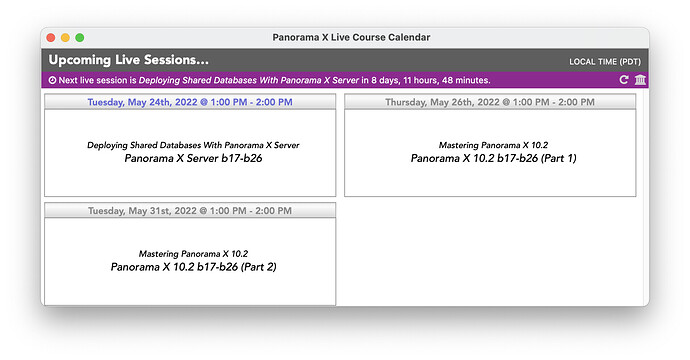 If you didn't sign up for these courses last year, you can do so now if you're interested. You'll be able to watch all of the sessions that were recorded last year, and also be able to participate live in the upcoming sessions. If you're interested, see Purchasing Additional Videos on the Panorama Video Training help page.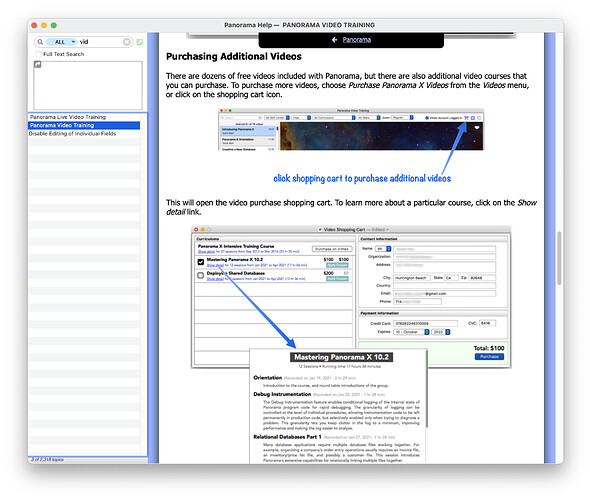 If you did participate in the courses last year, it's been a while, so you may want to review how to get ready for the upcoming Zoom sessions (and how to re-watch last years sessions).
I look forward to seeing many of you on Zoom in a week or so!
Jim Rea
President, ProVUE Development