Hello Pan X Aficionados!
Sometimes, when my colleagues create new records in shared databases, the new records do not show up on my database copy, until I click "Download Data" (see below).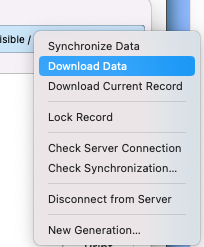 Clicking "Synchronize Data" does not work; only "Download Data" works.
Could someone please explain the difference between Synchronize and Download Data?
My understanding is the Synchronization happens when a shared database is opened. Does Download Data happen upon database started as well?
Also, does the downloaddatafromserver statement perform the same function as the Download Data, as shown above?
Thanks in advance for your help!
Paul