Sierra come out in ten days time. Does the problem with installing Pan 6 remain?
michael
I haven't heard of any changes in how Gatekeeper App Translocation works. I downloaded the latest copy of Sierra today, but I'm not sure when I'll get a chance to install it.
Though Panorama 6 does run on macOS 10.12 Sierra, the standard Panorama 6 installer does not run when downloaded via web browser. If Panorama 6 was already installed on your computer before you upgrade to macOS Sierra, you should have no problem continuing to use Panorama 6. But if you need to install Panorama 6 on a new computer, the standard method won't work because of the new Gatekeeper Path Randomization feature in 10.12. To bypass this problem and install Panorama 6 on a new macOS Sierra computer, you have to use Panorama X. The steps below assume you already have a copy of Panorama X installed on your computer. Instead of downloading Panorama 6 with a web browser, this technique involves downloading it with a special wizard that has been added to Panorama X.
Installing Panorama 6 on macOS Sierra
Start by launching Panorama X.
Open the Preferences window (Panorama>Preferences), then press the Install Panorama 6 button. (You can also choose Install Panorama 6 from the Install menu.)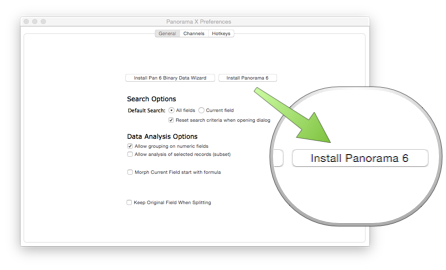 The Panorama 6 Install Helper window will appear.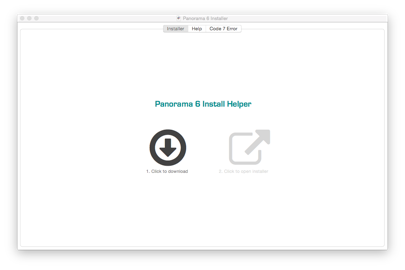 Click on the big down arrow to start the download. You'll see a progress bar as Panorama 6 is downloaded from the ProVUE server (you should be able to do other things on your computer while it downloads). When the download is complete, the share icon on the right will turn green.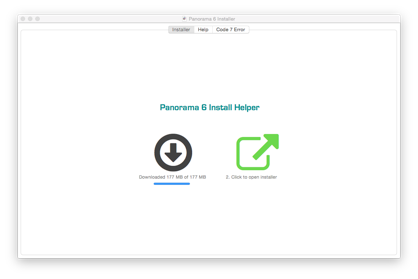 ''
Click the green icon to open the Panorama 6 Installer.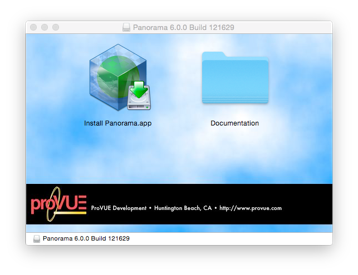 From this point on, the install process is exactly the same as it was before. Just double click on Install Panorama.app and follow the instructions.
Note that if you encounter a -7 error when activating the serial number, you'll need to follow the instructions in this tech note:
http://www.provue.com/support/tn/code7
For your convenience, you can access this tech noted directly inside the Panorama 6 Install Helper window.
If this works, will the installer be a regular component of Pan X?
michael
While it did work, the download speed was so abysmal that I would have opted out of the spinning beachball and no response dialog long before it finished if I didn't know I was testing something. It seems like it is on a .387/.125 DSL line.
It would be nice if there was a way to turn the cursor into a hand when it passed over the green arrow installer icon.
Robert Ameeti
(949) 422-6866
@RAmeeti It's downloading from the regular download site, the same URL that Safari uses to download Panorama 6. I suspect that Safari might have some optimizations to do the download faster – maybe multiple threads. As for the beachball cursor, that is generated by the system, Panorama has no control over that.
@michael Yes, assuming this works, this Panorama 6 Installer helper will be included in Panorama X. It's tiny – only 101 Kb.
I did timing tests on downloading Panorama 6. Both tests are from the same URL, which is a very fast server on an extremely fast network connection in downtown LA.
Safari 1 minute, 28 seconds
Panorama X 1 minutes, 55 seconds
So not that much difference.
But there are some puzzles. For some reason, Panorama X is using 100% of the CPU while it is doing this, which is causing the beachball. It is also not doing a very good job of updating the progress, which is probably related. In fact, according to XCode the download is actually complete about 20 seconds before the button turns green. So actually I think Panorama is downloading just as fast as Safari, but something weird is going on with the urltask( function. I'll need to look into that, but for today, the main key is whether nor not this works for getting Panorama 6 installed – so far so good on that front.
NEW VERSION WITH FASTER DOWNLOADS
Ok, I've uploaded another special version. Same URL as before (see above). This new version consistently downloads Panorama 6 at the same speed or faster than Safari, and it doesn't beachball. In fact, you can click to other Panorama windows during the download, or other applications, and the download continues at full speed.
When I teach the class about how to use the urltask( function, I'll have to be sure to include a note about keeping the number of objects that are updated as the url is downloaded to a minimum!! (See the Displaying Progress section of the urltask( documentation - http://www.provue.com/panoramax/help/function_urltask.html.)
@RAmeeti reported that the second special Panorama X version I uploaded (last night at about 10 pm) would not download correctly. Yep, I made a silly mistake. The problem is now corrected.
Sierra gets released tomorrow. Is there any updated news on running, installing or re-installing Panorama 6 for those who aren't yet running Panorama X?
So does this mean that if a current Panorama 6 user wants to upgrade to Sierra, they will have to buy Panorama 10 to update Panorama 6?
It appears that the issue is limited to applications that have been downloaded from the Internet. If you simply drag a copy of your Panorama folder from a backup disk or flash drive, you bypass it altogether.
I'm not entirely clear on this subject. Will this only impact you if you have to reinstall or install Panorama 6 after the upgrade to Sierra or will it prevent you from using an already installed Panorama 6 after going to Sierra?
Tom Cooper tested this on an earlier beta version of Sierra
It looks like he lost Panorama's registration, and had to redo that, but as long as you aren't downloading and running the installer, you don't have to deal with the Gatekeeper randomization issue.
This is the meat of the question for me - can I upgrade to Sierra on a machine that is already running Pan 6 and have everything work without further action, or do I need to do something special? If losing the serial number is all that will happen, I can live easily with that. I guess I'm waiting to read about the gnashing or clapping that intrepid users will express after they do it.
With new computer purchases, reinstalls due to hd crashes or whatever, my concern is for those who are currently running Panorama 6 versions of products I've built. There's nothing yet available for them on Panorama X so no compelling reason for them to buy Panorama X yet.
I just installed MacOS Sierra. Panorama 6 seems to be working fine. No problems, but I have done very limited testing. Pan X-I am doing a post on a problem I have encountered.
This link:
http://www.provue.com/support/tn/code7
is 404-ing. Is the install note inside the Panorama 6 Install Helper window that is downloaded from the web, or is this new tech note only in the Panorama 6 installer built into the Panorama X installer? I can't find anything so far. Thanks much for any advice!