If you've looked at the Panorama X Vimeo page (and I hope you have) you know that there isn't a lot of detail there about the sessions. This is because Vimeo has a very restrictive format for what can be put on their page. It makes for an attractive web page, but there is not as much information as I would like, and they don't allow links. Vimeo's format is really more for entertainment shows rather than technical content like these Panorama classes.
To solve this problem, I've created a new FAQ page for the Panorama X video training sessions.
http://www.provue.com/panoramax/faq/training.html
By the way, video classes are now availailable for rental as well as purchase, see below for details.
Session Slides in PDF Format!
This new FAQ page includes a bit more detail about each session, but even better, I've now uploaded PDF files with all of the keynote slides for each session, including the "behind the scenes" presenter notes. You can view these in your web browser and/or download them to your computer. If you are deciding whether to watch a session you can now find out exactly what topics are covered, and if you have already watched a session you can use the PDF files to review or to help you locate the portion of the class where a particular topic is covered. These PDF files are completely free, and if you open them with Preview they are searchable also!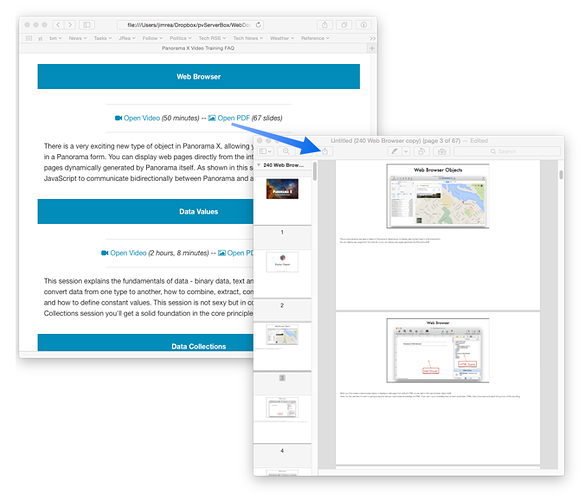 The slides can be downloaded from this link:
www.provue.com/panoramaxearly/sessions2015/slides.zip
Session Videos Now Available for Rental!
I've got more good news – individual video classes are now available for 72 hour rental for as low as $3.99! So now it's easier than ever to take advantage of this in-depth Panorama X video training. It's super easy to set up a Vimeo account and then you can watch on the web, iOS, AppleTV, Roku or Chromecast (the videos look awesome on a big screen TV

) Of course don't forget that there are ten sessions that are completely free.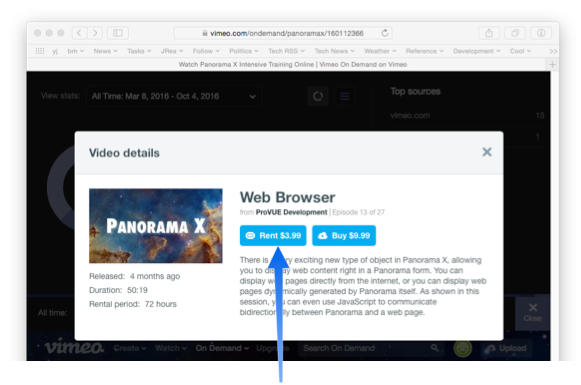 So if you haven't watched these videos yet – now is the best time ever!