I have a text field, Test, containing this sort of data: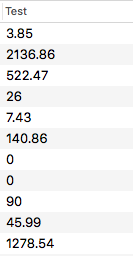 With the field active, I run this procedure (both with and without the field name included):
setfieldproperties "Test",
    initializedictionary(
        "DIGITS","float",
        "FORMULA","zeroblank(Value)",
        "OUTPUTPATTERN","$#,.##"
        )

… but no properties are changed. Message statements fore and aft execute, which suggests that the setfieldproperties statement executes. What am I missing?