For use with Panorama 10.2 Team Server
Now available in the Database Exchange, Server Monitor is a Panorama X file that can ensure that your Panorama X Team Server is up and running.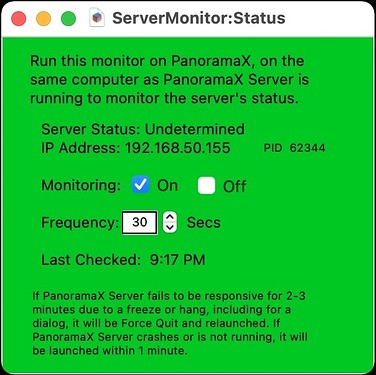 Server Monitor runs as a single user Panorama file on the same machine as Panorama Team Server.
Server Monitor checks the server status at a use defined interval. If Team Server is running, fine. If it's crashed or otherwise not running, it's immediately launched. If Team Server is frozen or is otherwise loaded but unresponsive, it is Force Quit within 2-3 minutes and immediately relaunched.
Monitor works on Team Server whether it's set for sharing or web publishing. For best results, set Panorama to launch on startup and to open Server Monitor on launch.
All code is accessible for you to modify. It can be revised to create a log of its activities or to send an email in the event of any quits or reboots. In can also be revised and added to Team Server to create a reverse monitoring to ensure that both programs are up and running.