At the end of Server Setup the page is missing what to enter for Go to Folder ( ~/Library/Application Support/PanoramaX/Server ) and anything else you meant to say after that.

On my 3.2 GHz 6-Core Intel Core i7 Mini running Big Sur the initial startup took a couple of minutes versus the ten to fifteen seconds suggested in the docs. I thought it had failed and was about to quit and try again. Subsequent startups are nearly instantaneous.
Although I chose Allow on the first launch, every start results in a Firewall dialog.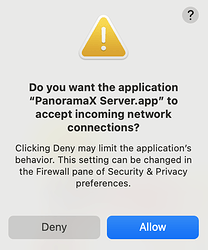 The Firewall settings show Pan X is given permission