Hi all!
I have a MySQL database I would like to convert to panoramaX and use it here.
The ERM looks like this: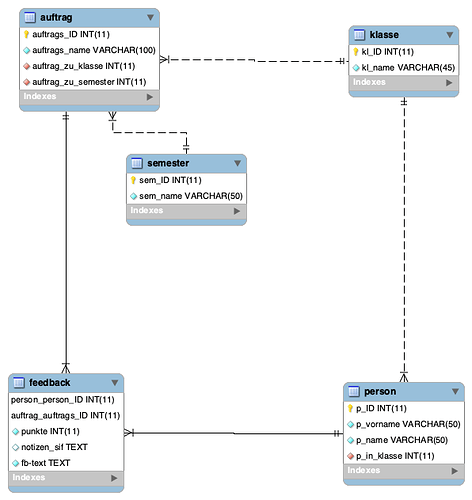 Now, I want to create a form, in which I can first select a «klasse»
Second: I'd like to select a semester
Third: A list of the selected class' tasks («auftraege») belonging to the selected semester should appear.
Forth: A list (or popup menu) of the persons belonging to this class should appear.
Fifth: when I create a new row in the database «feedbacks», I should be able to select a class's, a semester's, and a person's name and this should trigger a procedure entering those entities' IDs in the respective fields of a new entry in the database «feedback».
Usually, I program procedures like this in PHP using a MySQL database. When I saw Panorama's ads, I thought, it could be faster and simpler to do this in PanoramaX – but I have no Idea, where I can find the information needed to learn, how to do it.
Thanks for any advice
and kind regards!
Hanspeter