There have been quite a few posts mentioning the Panorama X documentation, so let's organize this a bit by moving this discussion into it's own post rather than split up across various topics. I'll kick off the discussion with a rather long essay with my own thoughts on this topic. As you can see, it's a topic I give a lot of thought to.
Videos vs. Text
Many of you are now stating that you prefer text to videos. You can save your breath, because I 100% agree with you. When I'm learning new software, I'd much rather read than watch videos, for all the reasons some of you have mentioned. I'm particularly frustrated right now on this issue in regard to RapidWeaver and Apple WWDC videos.
However, I also know that I'm an outlier – I was reading adult books by the time I was in 4th grade and when I took a speed reading class in high school, I read faster at the beginning of the class than anyone else did at the end of the class (and I didn't get any faster during the course, though I learned some skimming skills). I've read over 10,000 books and sometimes I've read computer manuals just for fun, without ever using the software described.
I also know that Panorama has had extensive written documentation in the past, and that hasn't always worked out very well. Right now many of you are telling me "I don't have time to watch videos", but in the past the mantra I heard over and over and over was "I don't have time or patience to read all that documentation", and I had many, many, many requests for more extensive videos from people that said "I'm more visual, I'd rather watch than read". This also is an industry trend, many many software packages now are primarily documented with videos (if they have any documentation at all), and even Apple delivers most of their new programming material via WWDC videos.
Also, for some topics I think videos are much more efficient than text. For learning a user interface, I think it's a lot better to watch a video that actually demonstrates what's going on rather than reading a bunch of text. That said, I am hoping to incorporate short videos into the help system.
The "gold star" solution would obviously be to have complete versions in both video and text formats, but this stuff isn't free to create, and it can't be created instantly. It took hundreds of hours to create the Panorama X videos, and the Panorama 6 documentation took thousands of hours. There are lots of complaints about the lack of Panorama X documentation, and I completely agree with that assessment, but I think there is at least a thousand hours of work in the written material that is already there. There is no way that I can snap my fingers and produce thousands of pages of material (and I don't think a wiki is going to do that either, see the next section). I am definitely working on more extensive written documentation, but it's a slow process.
Panorama X Wiki ?
I was going to comment on the idea of a wiki when it first came up a couple of weeks ago but didn't get around to it. In some ways, the Panorama documentation already is a wiki. Anyone can submit changes, whether corrections or wholesale changes. And I have received somewhere on the order of a thousand submissions, of which over 90% have been incorporated. Some submissions are just spelling errors, the most important have been code fixes in examples. In general, though, no one is writing any lengthy essays, general just a few words changed per submission.
Most of these submissions have come from a less than a dozen people, and about 90% have come from just 3 people. I'm sure you can imagine who they are. I don't think there is a well of additional people out there that would actually be interested in doing significant work on this. If there was, I would assume that they would have already stepped up. I'd love to be proved wrong on that, though.
By the way – the big three are Gary Yonaites, David Thompson and Michael Kellock. Let's give them a big round of applause!! If you ever see them in person, be sure to buy them a beer

The one thing that can't be done by users right now is create new topics from scratch. But considering the submissions I'm getting, I don't think there would be much of that even if it was possible. If someone wanted to add new topics, I could come up with a way for them to do it, but I don't think there is anyone out there that wants to do that. Again, if you want to prove me wrong, I'd love it.
To set up a true Wiki would be a LOT of work. It took quite a bit of work to set up the current submission system, though in the long run that work has repaid itself multiple times over. I also think a true Wiki would require a completely online system, i.e., no local component. Maybe that would be ok.
The bottom line is that I think Panorama X is already capturing at least 95% of the end user help available for working on the documentation.
Panorama X Forum
One other point on this topic is this very forum, which I think is going wonderfully well and is an excellent resource that supplements both the help and videos. There is already a wealth of searchable information on here. One reason I moved to this Discourse forum was because of the greatly improved search vs. the old email based forum. Also, it's great that it is now so easy to incorporate screenshots into posts.
One thing you may not realize is that this forum is searchable by Google. To search via google, just prefix your search with site:forum.provue.com like this: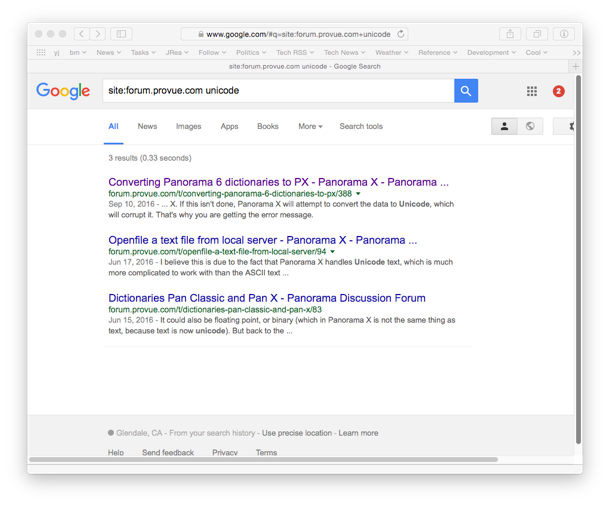 However, I just tried the same search in Discourse itself and I think it did a better job! So try both if you're having a hard time finding something.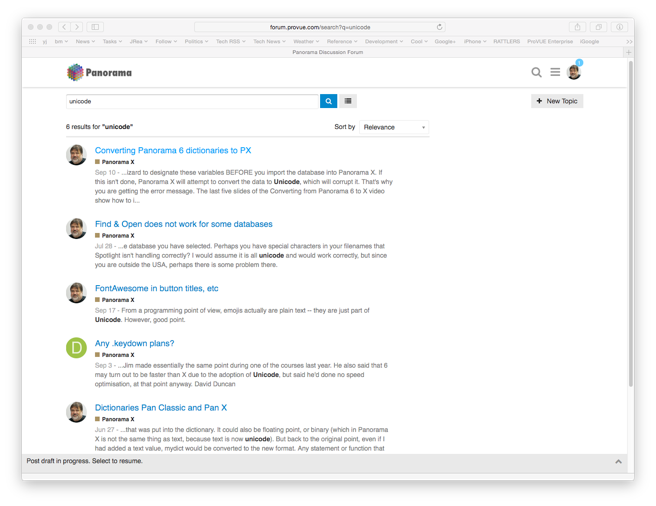 I think Robert nailed it a few months back, "'tis sweet to have this forum". I just discovered another cool new (to me) feature in the Discourse admin panel today. In fact if I had a complaint about Discourse, it would be the one that many have about Panorama X – insufficient documentation. Sadly the Discourse people don't think this is a problem, but I definitely do as far as Panorama X goes. It's not enough to write cool software, you have to make sure that people understand what you've done so that they can use it. Otherwise, you might as well not write it in the first place. So in fact I'll be working some more on the Panorama X documentation this afternoon, let me get back to it. As you can see, I have no shortage of tasks to work on for the indefinite future!
Jim Rea
President, ProVUE Development
---
P.S. I believe there is a way that this Discourse forum can be linked directly into Panorama Help pages – that would allow any user to easily add questions and comments to individual help pages. So far I haven't implemented this link because 1) I don't have the time to set it up right now, and 2) I think if that option was available it might cut down the submissions I'm getting, and for now I'd rather have the submissions so the actual documentation can be updated rather than comments tacked on. But eventually I think I will add this tight linking between the Help and the forum. If you are interested in the details of what I am talking about you can read about it here.