I have not yet installed the new macOS Sierra beta on any of my own machines yet. But I did get to spend about an hour with it on a friend's computer on Tuesday. The quick summary is that Panorama X works fine, but Panorama 6 won't install.
Of course I'm not surprised that Panorama X works – compatibility with future OS versions has been a major goal of the project. To that end, Panorama X is completely modern, it doesn't use any deprecated APIs, and it compiles completely cleanly with zero warnings, as shown in the screenshot from Xcode below. It was great to see the payoff for all this work with Panorama X working flawlessly on macOS 10.12 Sierra the first time.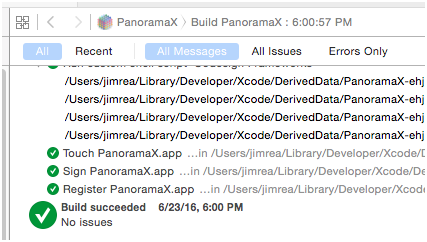 One thing I was curious about was what the new 10.12 "window tabs" feature would do in Panorama X. It turns out it does nothing — there are no out of the box window tabs in Panorama X. I think that is good, it is unlikely Panorama's multi-window document approach would work well with any automatic solution Apple could come up with. Hopefully eventually I can add specific window tab support for Panorama in the future, probably integrating tabs with the View menu. This could be a great way to open multiple procedures in a single window, for example. (Whether you could mix forms, windows and data sheets in different tabs in the same window will have to be investigated.)
Unfortunately, I was unable to install Panorama 6 due to the new Gatekeeper Path Randomization feature in 10.12. This is a new security feature in macOS Sierra. If you are not familiar with it (it was only introduced last week, after all), here is a page with a lot of information about it.
http://mjtsai.com/blog/2016/06/16/gatekeeper-path-randomization/
Gatekeeper Path Randomization is designed to prevent applications from using external resources, which Panorama 6 heavily relies on. So there is no easy fix on the Panorama 6 side. I spent quite a bit of time trying to trick the system into allowing the install without luck. Perhaps further efforts will come up with a trick that works, but at this point it doesn't look like there will be any trick that will be suitable for ordinary, non-technical users.
Since Gatekeeper Path Randomization is related to the installation of applications, it's possible that an already installed copy of Panorama 6 would continue working after an upgrade to macOS Sierra. I wasn't able to test that.
This is the first beta of macOS Sierra. It's possible that Apple may make further adjustments that may mitigate this problem. Since I wasn't able to do further testing, it's also possible that there will be additional problems with Panorama 6 beyond just installation.
For the past few years, I would hold my breath at WWDC time wondering if Panorama would continue to work. It isn't definite and concrete yet, but this year may be the end of the road for "classic" Panorama. Fortunately Panorama X is very far along, so at the moment my plan is to push forward with the development of Panorama X as fast as possible.