What is a Panel window?
To quote the Apple Human Interface Guidelines:
A panel is an auxiliary window containing controls, options, or information related to the active document or selection. A panel appears less prominent than a main window, and can behave like a normal window or be configured to float above other open windows—even modal windows.
I'm sure everybody is familiar with panels and how they are used in various applications. The normal Apple color selector is a panel as is the Emoji & Symbols selector panel (note that if you invoke the color selector with the Panorama X colorwheel statement it is opened as a modal window and not a panel).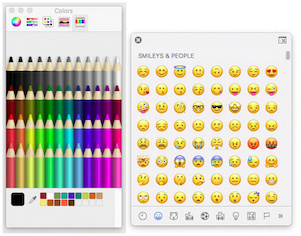 Many applications use various panels for their palettes as in this example of Canvas Draw showing three open panels: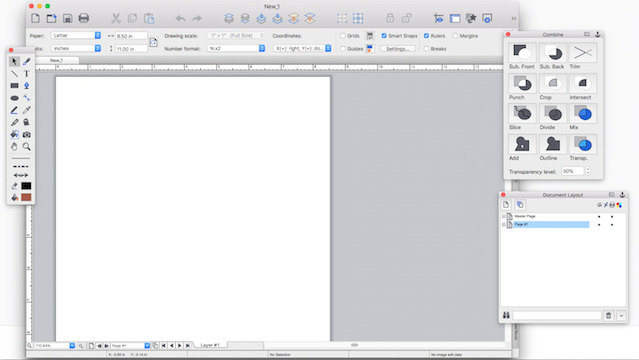 A panel window can float atop the main active window and be the key window to receive mouse clicks and keyboard action but can not be the main window. You will notice when using a panel in an application that the main window is always still shown as the active (focus) window even though you might be interacting with a panel window. A panel window is a NSPanel subclass of NSWindow with special attributes. I'm guessing Jim has his reasons for not making this feature available to Panorama X programmers but it sure would be handy if it was.
Here is my version of the implementation of creating a panel window from a form in Panorama X:
OpenPanel FORM, OPTION, VALUE
The options & values would be similar to those in the OpenDialog statement but adapted to meet the needs of a panel window. A panel might be able (I'm totaly guessing here) to be linked to just the file that created it or a certain window and disappear temporarily if that file or window is not active. It could also be set to be available to all open files and windows and silently float above all the them but never interfere with their normal operation. When the application is not active the panels normally disappear until the app is the active application again.
I just see a whole lot of possibilities if this feature was available including auxiliary tool palettes and floating information panels. I'm always hesitant to offer suggestions for new features because I hate being shot down in flames - but since I feel pretty strongly about this I'll put it out there anyway and wait for Jim to chime in with all the horribly unspeakable disasters that would surface if this was actually implemented.