I installed OS 11.01.1 today. Everything I have tried in PanoramaX so far is working, but there are a few changes in dialogs, objects, and windows that are slightly different and in two instances require some tweaking to the PanX objects or windows.
Standard windows are more rounded with different font in the title bar. In at least one of my windows, the lowest object was cut off and I had to add 10 pixels to the window to show what had been visible before. That could require some tweaking of databases to avoid some unsightly looks.
Alertsheets no longer appear to slide down from the menubar. Instead, they just appear on top of the window, possibly they are being centered. Buttons are laid out differently, while in an alert sheet with four buttons they would be aligned side-by-side, now they are stacked. (Two buttons are still side by side.)

The PanoramaX icon is even more prominent and led me to wonder if there is a way to customize it. Gary? Jim?
TextList objects have a distinct problem when using display header. The headers are truncated, with an ellipsis at the end, requiring the text list column width to be increased. That's going to require a lot of time to make adjustments.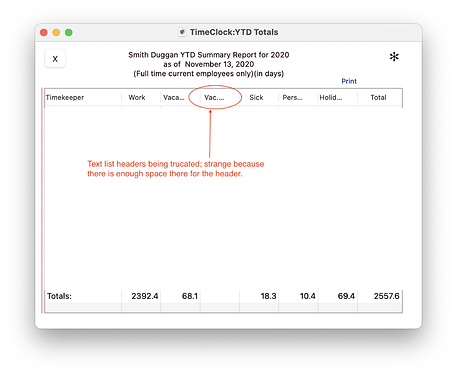 That is all that I have noticed so far.