«Cus ID»=?(«Cus ID»="",upper(«L Name»[1,3])+?(«Phn H»≠"", «Phn H»[6,9], "xxx"), «Cus ID»)
…used to work in v6, but doesn't in v10. I've posted this formula in the Formula section of the Field Properties for the field «Phn H» (the final term in this formula). Once the Phn H has been entered the Cus ID is generated. But here it fails, because it needed to do this by fieldvalue( , (and it told me so).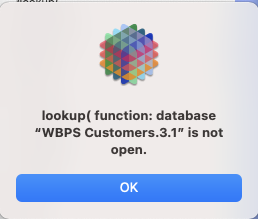 I'm pretty sure all it needs can be gotten by the ?(-. We're just copying from two text fields in the same record. Any comments? TIA.