It's me again. I'm really looking forward to using Panorama X for creating all the forms we need for our Summer 2020 camp season, but I'm having some problems. I created a form for the individual camper info entry, which is quite complicated, but it worked great. I was able to edit on the form or the data sheet and they worked correctly together. But I'm having problems with one which will be viewed as a list. When I transferred the Panorama 6 database over to X, the forms required quite a bit of "fixing", but I was able to get the one which creates an 8x11 list of campers in a counselor's group with the info the counselor would need. I was able to make it View as a list of the 12 campers who would be in the group, but the form I updated would not allow me to edit in the form. So I started out again this morning from scratch on that form. When I finished, it looked great, and allowed me to edit while in the graphic mode, but when I filtered 12 campers and then tried to look at the form from the data mode, the data mode form was
blank, with nothing but empty lines showing. Here's two screenshots:


and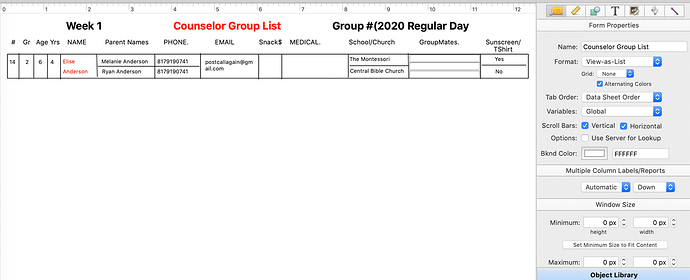 What am I doing wrong? Thanks in advance!