How can I make the font larger in a Text List?
Turn on the Rich Text option in the Text List Options pane of the Properties panel and then add the size tags you want to the Formula pane as I have shown in my example below.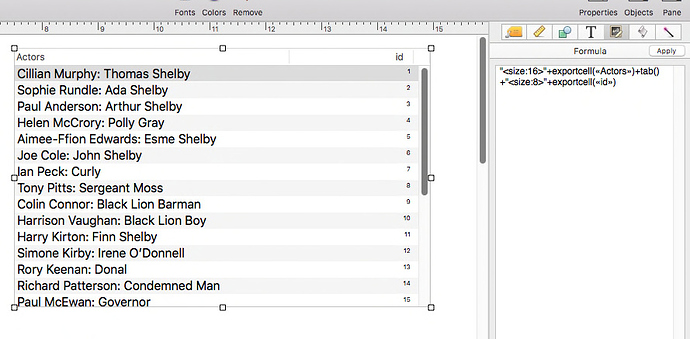 Thank You Gary.
I will try it.
Rich Text is great if you want to use multiple styles within a cell, but if you just want to make all of the text bigger there is a much easier way, just use the Size pop-up menu.
Thanks Jim,
I tried the size pop up menu but even when I choose the large it still is not big enough for these tired 74 year-old eyes.
I will experiment with Rich Text option.
P.S. I have gone back to using Pan X over Pan 6 because I think that Apple will eventually break Pan 6 with a major IOS update.
The only thing that I am eagerly awaiting in Pan X is the cell spacing and the "smart line grid" when nudging an item.
Have a great day Jim.
Blessings,
– Jerry Jambazian, (Treasurer, Administrator and Webmaster)
Christian Ministries Training Association
Sponsors of the annual IMPACT Convention
Serving the local church since 1952
9136 Las Tunas Dr
Temple City, CA 91780-1903
(626) 286-6492
Cell Phone (626) 643-9460
e-mail: cmta@earthlink.net
www: http://www.cmtaconvention.org
Gerald, the suggestion Jim made will certainly allow you to change the size of the text for the entire list even if there are multiple columns. The trick is to select the Custom setting from the Size popup in the Option pane. Once that is selected then you go to the Text pane and adjust the size and the font that suits you.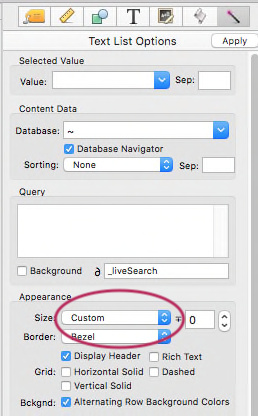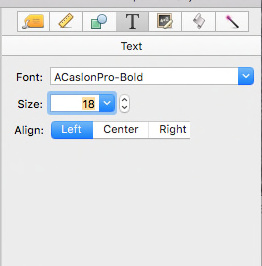 Hi Gary,
This is perfect. It worked like a charm.
I don't know why I did not see the "custom" option at the end.
There is even full control including line spacing with the check box to the right.
Thanks for all your help.
Sincerely,
– Jerry Jambazian
This has been very helpful.
One more question regarding font sizes.
Is there a way of making the font larger in a pop-up menu. It would be great if it also had the "custom" option that I was alerted to for a text list.
The mini, regular, larger still does not give me the flexibility I need for these tired eyes.
If you unselect the System Font option in the Options pane then you control things from the Text pane the same as with the Text List Object.
Thanks again Gary, works like a charm.
There are so many little tricks to learn.
Sincerely,
– Jerry Jambazian
9136 Las Tunas Drive
Temple City, CA 91780-1903
(626) 286-2444 CEL (626) 643-9460
e-mail: jerryjambazian@earthlink.net
Just one more formatting question, I promise.
Is there any way to make a checkbox bigger?
I think you are limited to the Regular, Small and Mini sizes.
Panorama X uses Apple's code to display checkboxes, so Gary is correct, there are only 3 sizes available. These are the same 3 sizes used by every other program on your Mac.
If you want a bigger checkbox, you would have to create custom artwork yourself and use an Image Display object. It's a lot of extra work, but it can be done.
Thanks Jim
Sincerely,
– Jerry Jambazian