If I initiate the arraybuild in the AR file (sending a request, via FarCall, for the Cus IDs of a set of customers with a given last name), the open window for the "FarCalled" procedure gets halted with what appears to be an alert "Field or Variable [L Name] does not exist".
FOR A WHILE THE FOLLOWING WAS TRUE, BUT NO LONGER: "Surprisingly, the array ("garry") appears as it should in line 3 of the AR file procedure, IF you disable line 1, and just check in with line 3."
If I initiate the arraybuild inside the customer file (instead of with the FarCall from the AR file), it goes though without complaint. I worry about some unknown monkey wrench.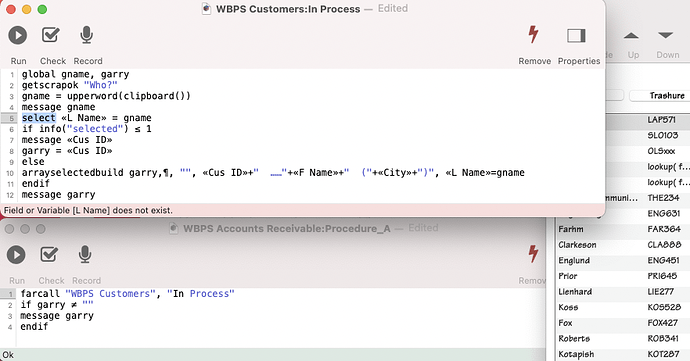 BTW, I feel as though PanX is running far slower (molasses-style) on what is a brand new machine, than what I was used to with v6. A video screen capture of this simple procedure can document this.