Here is the result of my initial experimentation with a 3D design program (Strata Design 3D SE7 available free from the App Store). I have to say the program is not very intuitive and it took me considerable mucking around to get things close to the way I wanted. I rendered the 3D image and then transported a copy of it into Photoshop were I made the background transparent and adjusted the brightness and contrast to my satisfaction.
These versions are 200 x 200 and 100 x 100 pixels respectively, both with a transparent background: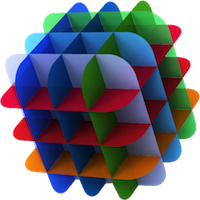 Note that if you copy these images from here they will lose their transparent background. With that in mind, I have uploaded a zip folder to my web site with three versions of these that include the above two images along with the giant master 500 x 500 image.
http://www.unseensoft.com/PanX/PanX3Dicons.zip
Use them any way you like or not at all - up to you. My next chore (if I ever get to it) will be to figure out how to create a 3D animated gif of the icon spinning around.