On a web server running b26, every time Pan Server is launched, a dialog comes up: Contents of variable [dppublicpath] have not been defined. I never saw it before today, but the server hasn't been restarted for some time. Quitting and relaunching Pan Server repeats the error and requires manual intervention to clear the dialog.
The presence of the dialog is the most serious issue since the server seems to be running fine otherwise.
The server is running OS 12.3.1.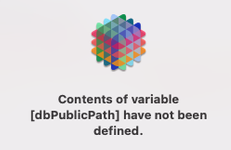 Two other servers running b26 and on OS 12.4 are not experiencing this.