I've uploaded the first video, Debug Instrumentation. You can watch it by opening the Panorama Video Training window (from the Help menu), then clicking on the All Years pop-up menu and choosing Last 7 days or Last 30 days.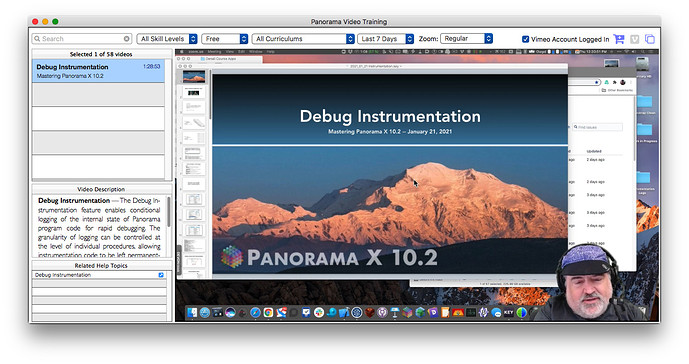 However, there may be a problem with the audio. It works fine on my primary computer, but on 3 other computers here, there is video but not audio. Very mysterious. Several other users have told me that the audio is fine. So here is a poll – does the audio work for you?
By the way, I recorded each session two ways – locally with Screenflow, and in the cloud with Zoom. I wanted to make sure it got recorded somehow. It turns out, I think the Screenflow video is definitely better, but unfortunately Screenflow only captured my microphone, and you can't hear anyone else. So I combined the Screenflow video with the Zoom audio recording. Maybe that has something to do with the problem. If you can hear the audio, I think the result came out well.