The date( function defaults to something like dd/mm/yyyy: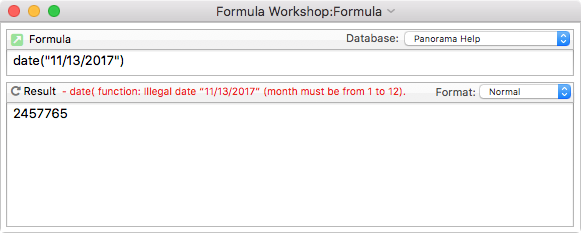 However, my system is configured for something like mm/dd/yyyy. (Sorry, I have an image but your system limits me to one image per post.)
The documentation for date(text) does not specify the expected format of the text parameter, but from other documentation I got the idea that this was tied to the system date format - e.g., this example shows date( interpreting the text as mm/dd/yyyy:
thedate="7/4/1776"
message datepattern(date(thedate),"DayOfWeek, Month ddnth, yyyy")
☞ "Thursday, July 4th, 1776"
I am importing an existing table from text, but dates such as "1/13/2017" (mm/dd/yyyy) are being silently discarded from Date fields. I believe that the root cause is that date( expects dd/mm/yyyy.
I finally solved the problem using this import formula (allowing for blank fields so that I did not get "//" as the result):
array(«9»,3,'/') + sandwich('/',array(«9»,1,'/'),'/') + array(«9»,2,'/')
I am impressed that Panorama is capable enough to allow for this workaround, but that was a lot of work for something that I expected to work out-of-the-box. Is my expectation wrong? Is there a problem with the date( function? Is there some way to configure Panorama to get the expected result when importing dates?