There's a past thread about floating arithmetic as it affected multiplication.
I've run into a similarly curious result on simply totaling a field of two decimal numbers. The field is set to float and has no output pattern that would hide more digits after a decimal.
601.49+198.44 = 799.9300000000001?


And the grand total works out to a dozen places after the decimal.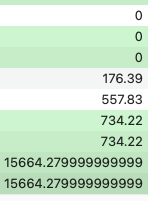 It's easy enough to work around, but surprising to me.