Hello Pan X experts!
My Pan X database consists of ten different fields, with fields name 1 to 10. Is it possible to create a procedure that creates a data array consisting of ten pieces of data (one piece of each of the ten fields), copies it to the clipboard, and allows the user to paste the data array into Excel?
The figure below shows the result (in Excel) I am trying to achieve.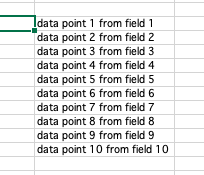 Thanks in advance,
Paul