Now available in the Database Exchange is a Contacts database with full access to the forms and procedures. I'm offering this to the Panorama community as a learning tool but also with the hope that others will contribute and help develop it further. It is not for sale or repackaging.
Contacts is a database designed for maintaining extensive notes, reminders and data on all of the people with whom you are in contact. Contacts is a work in progress and is being offered for free under the Creative Commons Attribution-Non Commercial-ShareAlike 4.0 International License.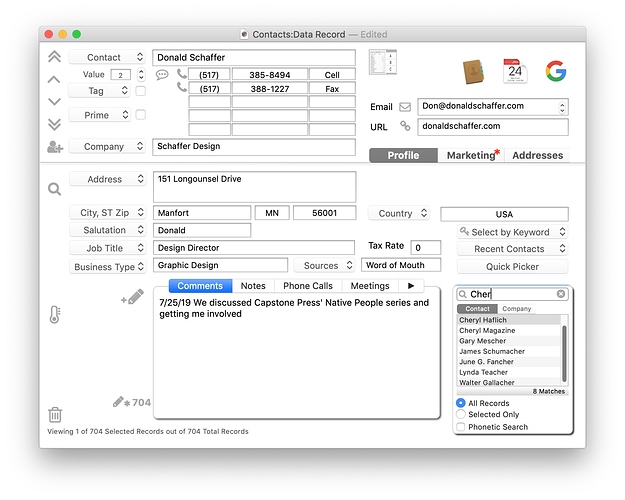 You have the right to use and modify it to suit your needs and, if desired, to share your modifications for the use of others and possible addition to the distribution copy of database for use by others.
This database can be used to connect to other Panorama X databases for job tracking, invoicing, communications or any other tasks. The recID field provides a positive link to make connections.
Ideally users will contribute enhancements to be added to this distribution copy for further sharing within the Panorama X community.
The right to sell or use this database or parts as a commercial product is forbidden without specific written authorization.
Other than exchanges in the Panorama forums, technical support is not available.
Be sure to pay attention to the Tool Tips. Many items in the window include Tooltips when you hover the mouse over them. They often describe hidden features that allow you to set preferences or optional features.
Access to edit forms and procedures is readily gained by choosing Full menus from the Displays menu.