A classic Panorama feature that quite a few of you seem to miss in Panorama X is the Choice Palette, which makes it easy to edit a field with a grid of radio buttons. When the next version of Panorama X is released (soon), you won't be missing it any more.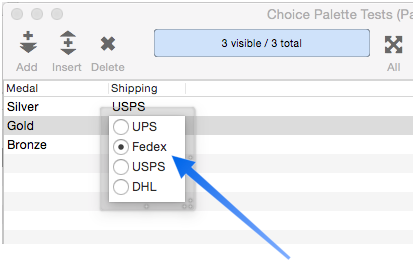 There are a couple of limitations. Unlike Panorama 6, the radio button arrangement is always vertical, it does not arrange buttons horizontally or in multiple columns. Also, for now, exceptions are not allowed. You can select radio buttons with the keyboard based on the first letter of each value (of course you can also use the mouse).
This new feature is automatically enabled for any field that includes a list of choices (whether the data type is Text or Choices). If you want to, you can disable it for an individual field by changing the new Editor Mode option from Automatic to Text Editor.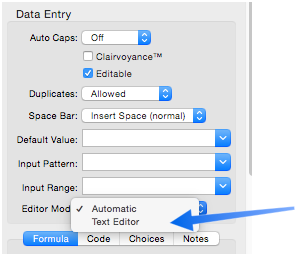 On final point – this feature was implemented in a way that additional special editor modes could be added in the future, for example a calendar for date fields or a slider for numeric fields. That won't happen for a while, but the foundation is there.