In a database containing numeric fields with names such as StWk950, I need to calculate fieldnames in a text list to produce a report showing the values contained in these fields.
This formula in the text list formula panel
Retailer+tab()+State[1,1]+tab()+DC+tab()+fieldvalue("StWk"+fvWeek)+tab()+StWk950+tab()
results in this output in the text list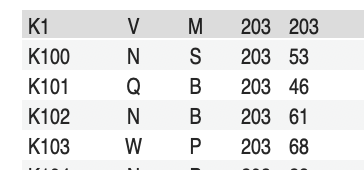 when the formula fieldvalue("StWk"+fvWeek) produces the field name StWk950 (because fvWeek=950). This repeats the first record's value of 203 in the whole text list, while the same fieldname StWk950 hardcoded outputs each record's value correctly (203, 53, 46 etc).
Using a formula to calculate a fieldname does not seem to work properly in the text list formula although the same formula works correctly in other circumstances, for example in the formula workshop.
I have rewritten this formula in every possible way I can think of and the best I can do is to get the top record's value repeated.
David