Hyperlinks can be added to images the same as text but will not show any indication a link has been attached. This can be handy for hiding an email address so it is not exposed to bots.
here is an example of adding a link to your forum avatar image. Right click on your forum icon image and select Copy Image and in the composer panel paste your image: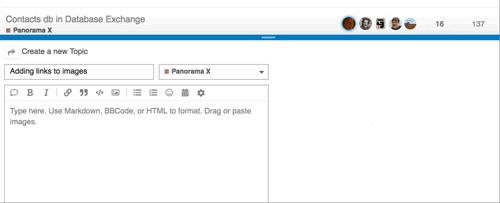 Select the entire image description you just pasted and click the hyperlink tool to open the Insert Hyperlink panel. I show here how to add a mailto email address to the image but you can add any valid link to the image. If you add a mailto address you must also remove the "http://" portion of the link as shown:

Clicking on the image itself will open a new message window in your default email program set to the linked email address. Right clicking the image and selecting Copy Email Address will copy just the email address to your clipboard. There is no outward indication that the image is linked to an email address and only clicking on the image itself will disclose it. Other url links will act normally but the image will give no indication that there is a link attached.
In case you haven't noticed, when you add an image you can hover over it in the preview panel and then select from 100%, 75% or 50% to resize it. Once changed you will see the % value added to the hyperlink text and you can adjust this value to any exact % you want.