A couple of weeks ago I posted two new videos to the main page of the provue.com web site, but I neglected to tell anyone about it! You can find these by scrolling down to the bottom of the main ProVUE home page, in a new section labeled Conference Talks just below all of the other videos.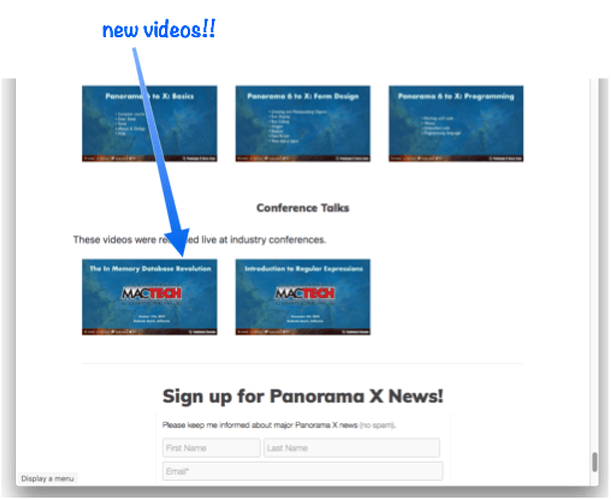 As the label indicates, these videos were recorded live at conferences, and neither is specifically about Panorama, though not entirely unrelated either. Both of these videos were recorded at the MacTech conference here in Los Angeles, one in 2018, and one in 2019. Since these videos were recorded live, there are a few glitches, but overall I think they both turned out quite well. Both videos have been edited to splice in the original Keynote slides, so the slides are crystal clear and sharp.
The most recent talk, The In Memory Database Revolution, explains the advantages and disadvantages of in-memory databases and does a quick survey of the in-memory products that are available. Even though I've been working with in-memory databases for decades I learned quite a lot in the process of collecting information for this talk. If you ever wondered about the technical reasons for using an in-memory database, this talk will explain it. I think this talk would also be a great recommendation for anyone you know that may be skeptical about using an in-memory database. I got great in-person feedback at the conference for this talk, and I'm excited that it's now available online. This talk was about 40 minutes long.
I'm also excited about last years talk, Introduction to Regular Expressions. This talk starts from the very basics or regular expressions and works up step-by-step by example. If you've been curious about regular expressions but didn't know to start, I think this talk will be great for you. Allthough this talk was recorded a year ago, the video wasn't ever posted because the in the original live recording the slides were offset and cut off. This has now been fixed by editing in the original Keynote slides. Unfortunately there are a couple of audio dropouts of 5-10 seconds which were in the original recording, but this doesn't detract too much from the overall 50 minute video (I'm only mentioning them because otherwise I'm sure I would get helpful reports back on the dropouts, and nothing can be done at this point.) The session concludes with a demonstration of how regular expressions can be used in Panorama X.
I hope some of you will find these videos fun and educational!