See picture of a brand new DB in panX (no procedure at all). Note that decimal separator is , because of my localisation of OSX.
In bottom record 4, I entered 1000,00 in field B, then duplicate record to get record 4 up. Surprise, 1000,00 becomes 1,00. Then I copy each cell B of the two records to create cells C, and again 1000,00 becomes 1,00!
Same behavior for the following records. Surprisingly up to 1000, there seems to be no problem. This could be connected to the thousand separator that in my case is suppose to be . due to the localisation.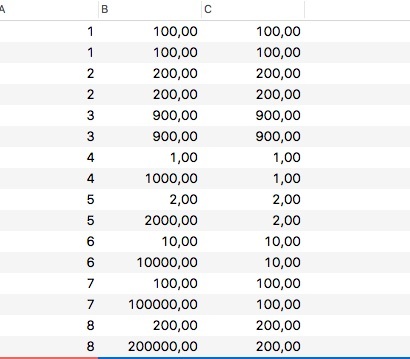 I mentioned that already once, to no avail. This must be corrected quickly as this is very dangerous if not spotted in time.