This is a device I've provided for a non-tech-savvy user to make a limited search of a database: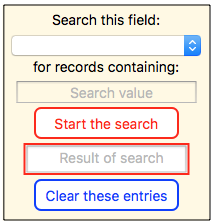 The problem is that, if the user selects a field from the pop-up menu and then types in the search string without first clicking in the Search value box (a Text editor Object), the search string text is appended to the data in one of the fields in the form. This is not at all obvious to the user and is obviously highly undesirable.
How do I prevent this from happening?