Hello and Happy Saturday,
I've run into a weird issue that I believe comes down to my not understanding how PX sees Text Fields vs Date Fields (photo below). I'm using this procedure called UpdateTestPitch:
Field PitchStatus
Formulafill 
    ?(emptycell(Pitch_ID) and length(Pitch_Oxy)>0,"Pitch to ID",
        ?(emptycell(Pitch_Oxy) and length(Pitch_ID)>0,"Pitch to Oxygen",
            ?(emptycell(Pitch_ID) and emptycell(Pitch_Oxy),"Pitch to Both","Pitched")))

And I'm running:
call UpdateTestPitch
from the code panes of Pitch_Oxy and Pitch_ID.
If I leave the fields set to Text, everything works as expected.
If I switch the fields to Date, it says "Pitch to ID" every place it should say "Pitch to Both" -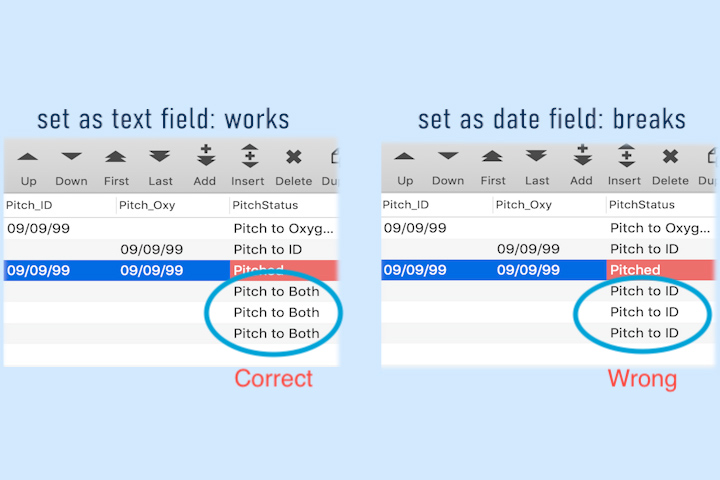 Right now, this is a brand new empty database I'm trying out, since it seems I often "break things" along the way. The only thing in it are these three fields, the few records I've created, and the code above. Thanks for any thoughts, and have a great rest of your weekend!
Best,
Biagio