Hello Everybody,
While attempting to convert a Pan6 procedure to PanX, I have come across a quirk that perhaps is unknown to other users. Since I wish to have PanX as accurate and stable as possible, here is the issue (which you can replicate).
Prepare a simple database with a Date field and another field. Call it "Untitled".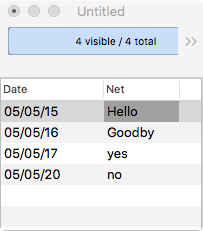 In another database, copy and run the following code:
Local t1
//   OPTION 1
setactivedatabase "Untitled.pandb"
Find «Date» = table("Untitled.pandb","Date",
    date("10/13/2016"),"Date",0,0)
message «Net»

//OPTION 2
setactivedatabase "Untitled.pandb"
t1 = table("Untitled.pandb","Date",
    date("10/13/2016"),"Date",0,0)
Find «Date» = t1
message «Net»

RTN

In Pan6, both options return the same result. But PanX fails Option 1, and always returns the first record in the database. The Option 2 workaround is trivial although not elegant, BUT ONLY IF YOU KNOW THERE IS A PROBLEM.
Here is the point of this topic. As you might imagine, tracking this error down was a real bear without single stepping. I never imagined the error could be in this section of code at all - it seemed so straight-forward. So I was focusing on the rest of the code and getting nowhere.
Jim has stated many times that single stepping is not going to happen for some time. It must be a very difficult problem, or he would have already implemented it. But I fear PanX will not reach its full potential until single-stepping is resurrected. I hope Jim has an epiphany - a brilliant flash of perception - which gives him the key to solving this issue.
In the meanwhile, I think I must put PanX away again, at least until the next beta update. It is just too frustrating to find and debug the aberrant sections of code which work differently from the Pan6 code.
Best regards,
Vic