The current task in updating my databases is to duplicate a View as List patient account window. Per Jim's guidance in the video on Text Lists and Matrices, I'm trying to use a matrix to duplicate the same information as the new view as list doesn't allow certain interactive features, like buttons, that I use.
Here's a screenshot of the reconciling area from Pan 6. As I reconcile the account, I click the checkmarks to show paid status for the different amounts. In Pan 6 the checks change color and display essentially instantly and I can zip from one record to another.

In Pan X, I did get the checkmarks to update using a hack from Gary Y posted some time ago moving up and down a record in the database. However, the update takes a full 6 seconds to make the change in the display. While it is doing that, I can't click anything else and reconciling is basically unusable. The checks are TDO's that show the status of a field in that record with choices of Yes or No. The square is a calculation of whether the Total Fee has been paid in full and is different colors depending on Full, Partial, or None. In the working version the 1° and 2° amounts are editable via Text Editor objects. I haven't gotten that to work yet, either
Here is a shot of the little test I'm running of trying to duplicate this operation. The Constructor gave me a one column matrix which I filled with the elements shown: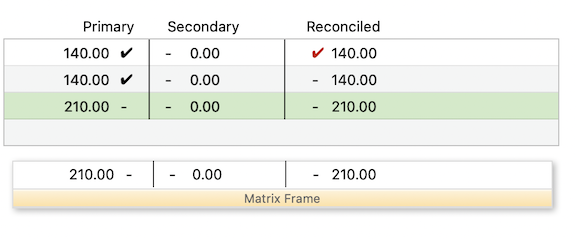 Can anybody suggest a way to speed up the displaying of the checkmarks and updating the display? Additionally, how do I get the numbers to be editable in each of the lines? Simply putting a TEO in the Frame doesn't allow editing in the matrix display
Thanks for any help or insight offered.
Scott