Here's a shot of a form with a matrix object: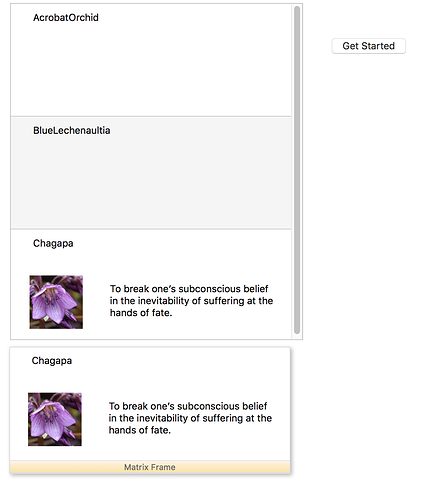 The form is constructed just to illustrate this bug: the Get Started button has this procedure:
fgTest="AcrobatOrchid,BlueLechenaultia,Chagapa"
showvariables fgTest````

The formula for the matrix is `commatocr(fgTest)`

The Matrix Frame has 3 objects. The top one is a TDO with the formula `info("matrixcelldata")`
As you can see, it works in each frame of the matrix.
The other 2 objects in the frame are lookups, displaying a photo and a text snippet respectively. The formulas for those are: `lookup("FlowerEssences",Name,info("matrixcelldata"),Photo,"")` for the image display object and a corresponding one for a TDO.

As can be seen from the screenshot, these formulas work in the Matrix Frame and, in the matrix itself, for the corresponding record; but not for the other two records. 

Am I doing something wrong, or is this a bug in the lookup( function, or? 

I worked on this months ago and then dropped it. I hoped that the latest version of PX, which had some fixes to matrices, might have resolved my problem, but it doesn't. I thought I had asked about this problem before and even sent Jim copies of the files, but I can't find any of that correspondence here, in BitBucket, or in my own email records. Maybe I didn't, or maybe I just lost the evidence....