Hello! Thanks for reading.
I've have a database that looks up and pulls info from another database. It's been working great (thanks to help from everyone at this forum) but all of a sudden today the scripts stopped working, and give the error:
lookup ( function failed to match.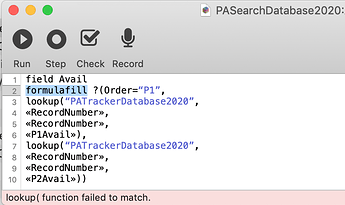 As far as I can tell, nothing has changed in the main database (field names all seem to match.) I've run these scripts around 20 times over the past weeks with no issues - so I'm afraid somehow, somewhere, I messed something up.
Can anyone point me in a good direction so I can better diagnose this?
Thanks so much,
Biagio