Hello Pan X Enthusiasts and Professionals!
When I try and upload a New Generation of my database ("Ledger") to my server (uploading forms and procedures), I receive the following error message.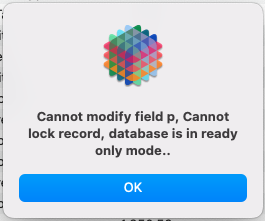 "p" is one of the fields in my database. Interesting enough, there is no data in any «p» entry.
When I hit "OK", the database behaves normally, except for the following.

The status "Uploading to Server…" does not go away.
When I close the database, I receive the initial message again.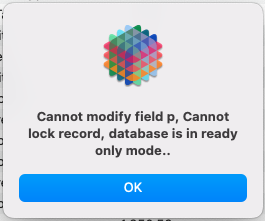 After this, when I go to the Server Administration dialog, this database, Ledger is offline.
Also, after this issue, I receive synchronization errors. The errors are never the same either. In other words, the records that have synchronization errors are different each time I attempt to synchronize.
In an attempt to start afresh, I downloaded a copy of this database, from the server, to my local computer. However, the synchronization errors still persist.
Also, I noticed that sometimes, in seemingly random records, long sequences of numbers (1,2,3…899) are pasted into one particular text field named "TYPE".
This database does not have any features that are different than any of my other shared databases (which are fully operational). The only thing unique to Ledger, is a Payroll program (run on a client computer) that copies entries from our payroll database, to Ledger.
Sorry for the long explanation, but I am having a hard time determining what information is relevant to this problem, and that which is not.
What is the core of the issue I am experiencing here?
Thanks in advance!
Paul