Most everything I do is with shared databases thus I was first disappointed, then confused when I got this error:



One of the features sought after in the Join was the use of Remote Clairvoyance which does appear to be working (in part). Here is my Join Dialog: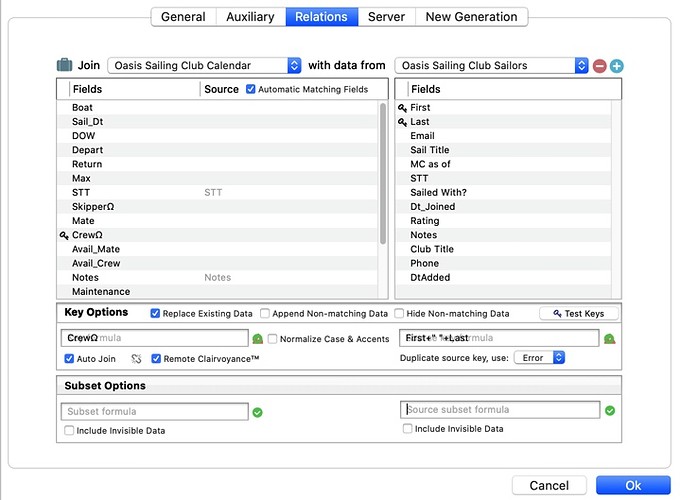 Previous to the Join, when I was using Clairvoyance in just the Calendar db, if I typed 'Rob' in a Crew line item field and there was only one person's name starting with 'Rob', it would suggest Robert Ameeti as that name existed in a CrewΩ field.
After the Join, I expected the same to happen but when I typed 'Rob', Clairvoyance only suggested 'Robert' (not including the full formula of 'Robert Ameeti' that I declared in the Join dialog.
But regardless of the incomplete Clairvoyance, it did tell me that the Join had in fact worked even though the Calendar file was shared (contrary to what the error dialog stated)!
So 2 items given my Join dialog: 1) Should Clairvoyance suggest both the First & Last name as it exists in the Sailor db, and 2) Can a shared db use the Join dialog successfully regardless of the error noted above?
Lastly, can I bring over the data from the STT field from the Sailor db, but not bring over the Notes data from the Sailor db?