Hello! Happy Saturday and thanks for reading this. Happy to say I'm officially a customer and enjoying Panorama X a lot.
I've been following the directions on Tab Order in forms from the Panorama 6 manual (I'd seen a post here that said this topic wasn't in the new X help yet), and I have everything working except one odd issue. In the picture below, you can see my tab setup (my Tab Order is set to Natural.)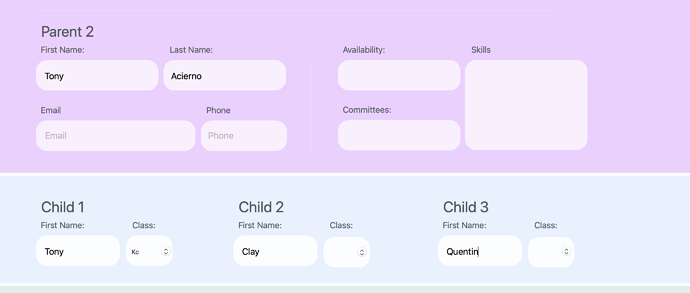 I can tab from Parent 2 first name to last name, then to email and phone, then to Child 1 first name which all works. But when I tab from Child 1 first name, the cursor disappears instead of going to Child 2 first name. I don't see it anywhere on screen. However, if I hit tab a final time, the cursor reappears in Child 3 first name. I do have the Child 2 first name "include in tab cycle" clicked on, but can't seem to fix this one last thing. Thank you for any help/direction, and have a great weekend!
Best,
Biagio