Thanks Jim - Sorry it took me so long to get back to you. thanks for your help - Mark
Hi Jim,
Just checking in to see if you've made any progress on the new Contacts database.
Thanks,
Brian Smale
I have had a working Panorama X Contacts file for some time and have been using it myself. It's far from complete, but quite usable. My last Contacts had over 30 years of development without reaching any final stage., so…
One thing that has delayed my posting of it was that another developer expressed concern about the release of open source products and how it effects the ability of other developers to develop and sell their work. Photographers can identify with the influence of royalty free images on the ability to license photographs.
After a lot of consideration I'm inclined to proceed on this one although I need to consider the terms for its licensing. ProVUE has always offered a variety of usable databases as examples and starting points. I suspect that my Contacts would serve much in the same fashion. It would provide a starting point for many who might not otherwise get going with Panorama X. Other developers can certainly use it to build around. After all, it can be connected to invoicing, correspondence, job tracking and many other files that I have no intention of developing for free. It's an example of my capabilities but also serves as an example of Panorama's.
One of my major ambitions with it is use with Enterprise so that I can share it within my own office, but also use it via browser on my mobile devices. Panorama 6 has certainly demonstrated that anything that can be done on my Mac can be converted and used in a browser. The ability to access and edit my contacts on anything that has a browser is very appealing.
Thanks for the prod. I'll take a look at a couple of last touches it needs, work on the license and document the steps necessary to move from your existing Panorama 6 Contacts to this Panorama X version.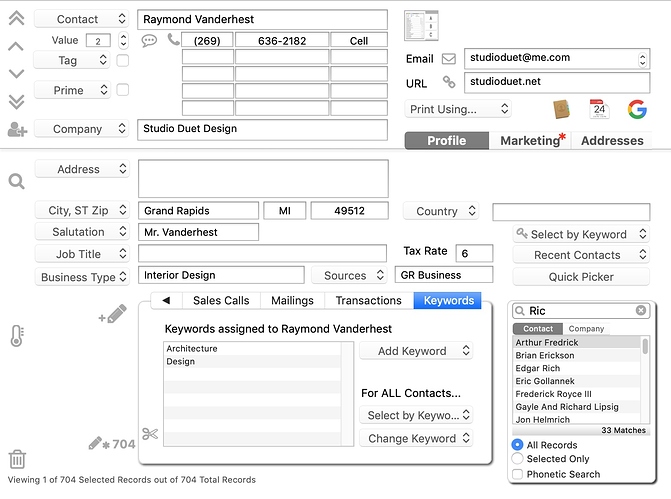 Hi Jim - Many thanks for the update on a Contacts file for Panorama X and thanks too for all the work you've done on this software over the years. I think it's remarkable that I and many other photographers have used your software for so many years and have stuck with it because none of the other offerings provide nearly the same features. Given the discussions I've had with a few other longtime users of InView I think there's a lot of interest in having some of the core of InView run on Panorama X (Contacts and estimating/invoicing in particular). I for one would be interested in paying for an estimating/invoicing file developed for Panorama X. Thanks again Jim, and please let folks know if this is something you might consider.
It's my belief that a good Contacts file is the center of many possible Panorama file sets. As open source it can serve as a learning tool for many, and allow them to build around it. There are many others who'd prefer to pay one of the many excellent Panorama developers to build for them. If it contributes to enlarging the Panorama user base it's good for all of us.
My own ambitions do not include building another invoicing and accounting system as I did on Panorama 6. I'm more likely to build an emailing app since I do a lot of personal, direct marketing. I'll also continue to work on the ImageLog that I've already posted to the Database Sharing.
With the Contacts database, I'm eager to get it to a sharing mode, especially via web browser, so that I can readily access and edit my Contacts from any of my devices sporting a browser. I'm inclined to provide some sort of stepping stones to encourage and help others move in that same direction.
Beyond that, who knows? The jobs I get hired for often decide for me.
Thanks you to all contributors for sharing this information.
Hi Jim, I will enthusiastically join in with the chorus of thank yous and admiration as I have been a Hindsight user since 1994. It's the only software I have run my business on. I am so excited to see that catalogue and contacts are being worked on for Pano X. These are both irreplaceable. Do you have an idea of when you will release the contacts file you have been working on and when you feel it will be ready for Enterprise? I am serving Hindsight on an older mac but have had great success with Mojave with Hindsight. This thread has helped to ease my anxiety about migrating to a lesser product. Thank you, Dave Moser
First, huge props to Jim. Thank you for being there for so, so many years. Jim even built a special feature into the catalog so that I could make temporary captions when I printed slide labels. Remember slide labels!?
The database still works fine for me I have just purchased a brand-new Mac Mini and I'm running Mohave 10.14.3. Moved Hindsight (6.0.0) and Panorama Direct to new drive; and in order to open I simply ignore the dialog boxes warnings and when presented a panorama database option, I click on 'open recent'. Voila.
I probably need to get PanoramaX and Jim's ImageLog at some point but I hate to fix what ain't broke. I depend upon the Hindsight Catalog to manage my huge library. These days I enter all my metadata in Adobe Bridge and Jim's browser seamlessly enters it into the Hindsight Catalog before I upload files to my online galleries.
Thank you Jim…
Thanks Saxon, your comments are appreciated. The ImageLog is getting there but it still needs the metadata and keyword generator. I'm using it regularly now myself, so that's pushing me to get more working.
Jim: I've been nosing around the forum here and see indications that Panorama X for Mac with a companion iOS version likely remain at least three-years out. I'm glad to see you are working on a Panorama X Contacts file, but I long ago made the transition from InView Contacts to Apple's Contacts (which works for me in retirement — even under Mojave, although that version definitely is the end of the line). Not ideal, but functional. Of far greater concern is the imminent need to migrate my extensive equipment database to something new. While alternative Contacts databases are a dime-a-dozen, I have not yet found an obvious replacement for that invaluable InView Equipment module. As the final demise of InView is within sight with the release of OS X v10.15 Catalina, it would be enormously helpful if you could provide some guidance and maybe instructions on migrating the Equipment module data to some other gear-tracking database, preferably one that's on both macOS and iOS. Obviously, the Equipment data has to be exported to am interim .csv file or something. But what replacement database product should your customers consider? Or can (and should we just move this to an Excel or Numbers spreadsheet? Sortly is one iOS product I've downloaded to evaluate, but frankly, haven't had time to look at it, and am not sure I'd know where to start anyway. Any thoughts would be appreciated, even if they only point your former customers in the direction of an attainable and timely solution. Alternatively, maybe some old customers would be willing to pay you to migrate our equipment databases to something — anything to keep them limping along.
Well… as a matter of fact I've been migrating my own equipment data into a new Panorama X database. It's not very polished at present but it does handle all of the info from the old InView Equipment file. Possibly I can get it into a 'friendlier' condition in the near future and share it as I've done with Contacts and Catalogue. It would be similarly offered without tech support or promises of upgrades, but it would be free and open source for you or others to make changes and improvements.
That would be cool, Jim. An InView module that lives on in an afterlife is better than no InView module at all. Right?
Jim: Hope all is well. I don't know if you made any progress with a 64-bit, Panorama version of your Equipment database but I'm moving ahead and looking at exporting my equipment data. It seems like the Export function for that module creates a tab-delimited — rather than a .csv file. Is that correct? Sortly (one App I'm looking at) is looking for a .csv Numbers or Excel file. Can you offer any idea how I get from here to there? I saw nothing in the old Hindsight manual about Exporting the Equipment file data or getting it into another file.
…An Export option is available under the Access menu, but I have to figure out how to deal with that data, and likely, optimize the record files afterwards, prepare them to import somewhere.
I've got a Panorama X database of data imported from the InView Equipment database working for me, but it has a handful of things to clean up. As an eventual freebie it's done as I'm able.
The export feature you're asking about in the InView Equipment is a tab delimited text output.
Most applications like Excel or Numbers understand tab-separated text files as well as comma-separated text files. So you could take an intermediate step and open the TSV file in Numbers.
Or you open the TSV file in a new database in Panorama X and export the data as a CSV file.
Hi, does anyone have experience with using Catalina and the older Panorama 6.0? Does it work or is HighSierra the end of the line?? Thank you.
Actually, Mojave is the end of the line. If you use a program like parallels to run two operating systems at a time or keep an old model Mac running, you could extend the life of Panorama 6.
We have been using InView for many years but plan on replacing our old Mac with a new one. Does anyone have a recommendation for a replacement photo business software? I have herd Blinkbid as an option but would prefer something not run in the cloud. Thoughts?
You're not likely to find much knowledge about photo biz software here. You'd do better on a photography forum with that question.
For billing you might want to look at generic business software such as Quickbooks. For contacts or image tracking, check out the databases I've posted here.